About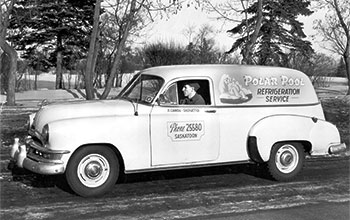 Polar Refrigeration Service Ltd. is a 100% locally owned business. The company offices and shop are located in Saskatoon , Saskatchewan . "Polar" was established in 1952 and has been a leader in the local refrigeration industry since its inception.
Three friends founded Polar Refrigeration Service Ltd., locally referred to as "Polar" in 1952. In 1993, Richard and Laura Scrivener purchased the company from Ralph & Shirley Dent. Ralph was the first refrigeration apprentice that Polar ever employed, the year was 1954, and in 1958 he bought into the company.
Eventually, Ralph ended up the sole owner. He sold the company in the early 70's; however, he & Shirley bought the company back in the late 70's when it became apparent that the new owners were struggling.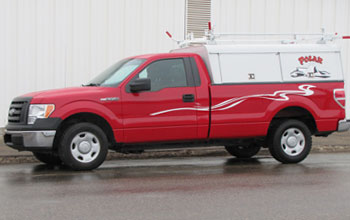 In 2018 Polar was acquired by the miEnergy Group. With a foundation of shared values, Polar can offer renewable energy and electrical contracting services through its sister companies. Many changes have occurred in the last few years that have impacted greatly on our customers, our suppliers and us. In these changing times it has been both challenging and at the same time rewarding to work with so many other businesses on this journey that we are so glad to be a part of.
Value Commitment
Professional system diagnosis or needs analysis by expert technicians or designers to ensure an effective, economical and environmentally friendly solution to your HVAC and Refrigeration needs

Best quality equipment and components available, backed by the manufacturer's warranty.

High quality work done right, first time, on time by trained, certified, insured and courteous team.

Perfect clean up at every job completion.

Customer instruction regarding system operation and maintenance as needed.

Follow up on all new installations within 4 weeks to verify proper system operation and performance.

24 hour, 365 day emergency service.

All mechanical systems require periodic maintenance and service. We offer and recommend an appropriate regularly scheduled maintenance plan for your specific application.
WHEN YOU BUY ON PRICE
When you buy on price you can never be sure. It is unwise to pay too much, but it is worse to pay too little.
When you pay too much you lose a little money – that is all; but when you pay too little, you sometimes lose everything, because the thing you bought is incapable of doing the thing it was bought to do. The common law of business balance prohibits paying a little and getting a lot. It can't be done! If you deal with the lowest bidder, it is well to add something for the risk you run, and if you do that you will have enough to buy quality. - Quoted in 1819 -